Details
MOCAP
SQ Series heavy wall polyethylene plugs for square tubing are designed to fit multiple tube gauges and provide a secure fit. Poly tube plugs are ideal for office and patio furniture, tubular racks, appliances, exercise equipment, or anywhere a finished look is needed. Tube plugs include multiple horizontal ribs designed with built in flexibility for easy install and secure fit. SQM Series Tubing Plugs are available in sizes to fit 10mm to 120mm metric rectangular tubes.
For more information, see our
SQ Series
page.
---
​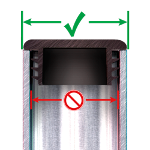 Please make sure you measure the outside of your tube when referencing our sizing information. Also, note the "Tube Wall" specified for each plug to make sure it will be compatible with your particular tube.
---
Product Range: SQ

Click to get URL for current item config.